The Moto4 websites include the full-width sets of the elements that effortlessly adapt to all screen resolutions. These blocks can be used for any business purpose - About, Home, Services, Gallery, Products, etc. If you need more of them, check the Adding blocks article.
Tip: If our pre-made solutions don't satisfy you, check the Adding a custom block article to find out how to create a block from the ground up.
Still have questions? Email us or launch chat.
What You Can Do with Blocks
It is up to you how to manage them - move, delete, hide, or duplicate!
Another benefit is its customizability, which ensures adjusting to your site's design without any errors or losses. If you want to learn more about it, check the article Changing the design of a block.
How to Cope with Elements
What should you understand under the term "elements"? These are different block contents like buttons, images, content, etc., which occupy a particular area in the block. What is more, you can add more elements (lists, buttons, icons, etc.) to make your blocks look more reputably.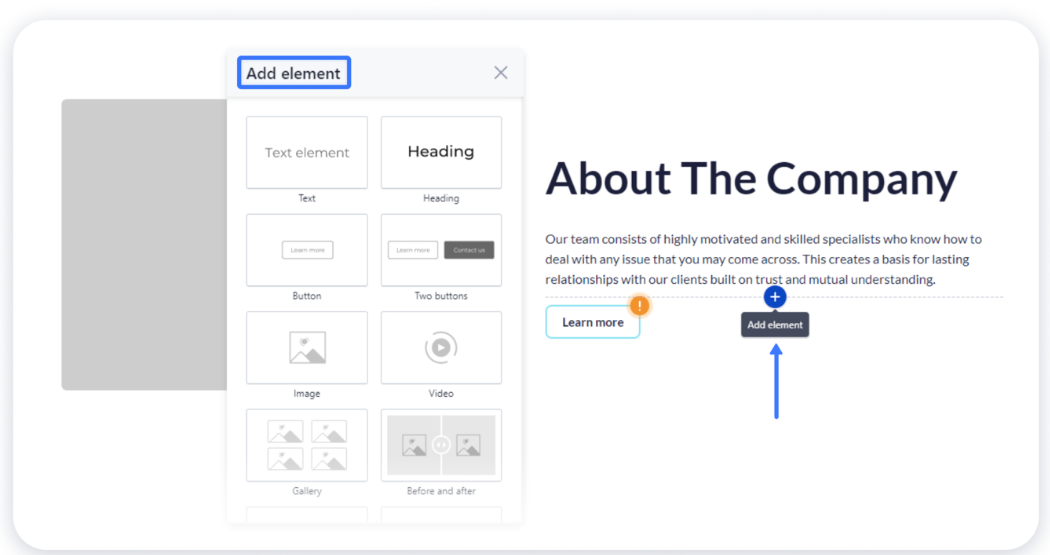 Copy, delete, or move the elements within the block as you wish.
For quick customization and user-friendliness, Moto4 has created columns filled with appropriate elements. Moreover, you can align the content or change the block's background with their help.
The article Managing elements will reveal the use of columns and elements for you.
Common Types of Blocks
Moto4 has simplified the editing process - if you want to delete an element from one item in the collection, it will be automatically deleted from every item as there are the same layouts of items. Still, some blocks like collections and lists differ by the set of settings and behaviour.
Moreover, we offer you different modes for collections. Therefore, you have the opportunity to add sliding and blocks with tabs.