Any of the modules listed below may be added to your MotoCMS Ecommerce plugin by our Support Team for $49 each. You can buy Extensions for your eCommerce plugin or eStore template on our site by this link.
You can also purchase the extension you need directly from your admin panel. To do this, in the "Store" section, select the "Extensions" menu item - click on the "Add" submenu item. There you will find a list of available extensions.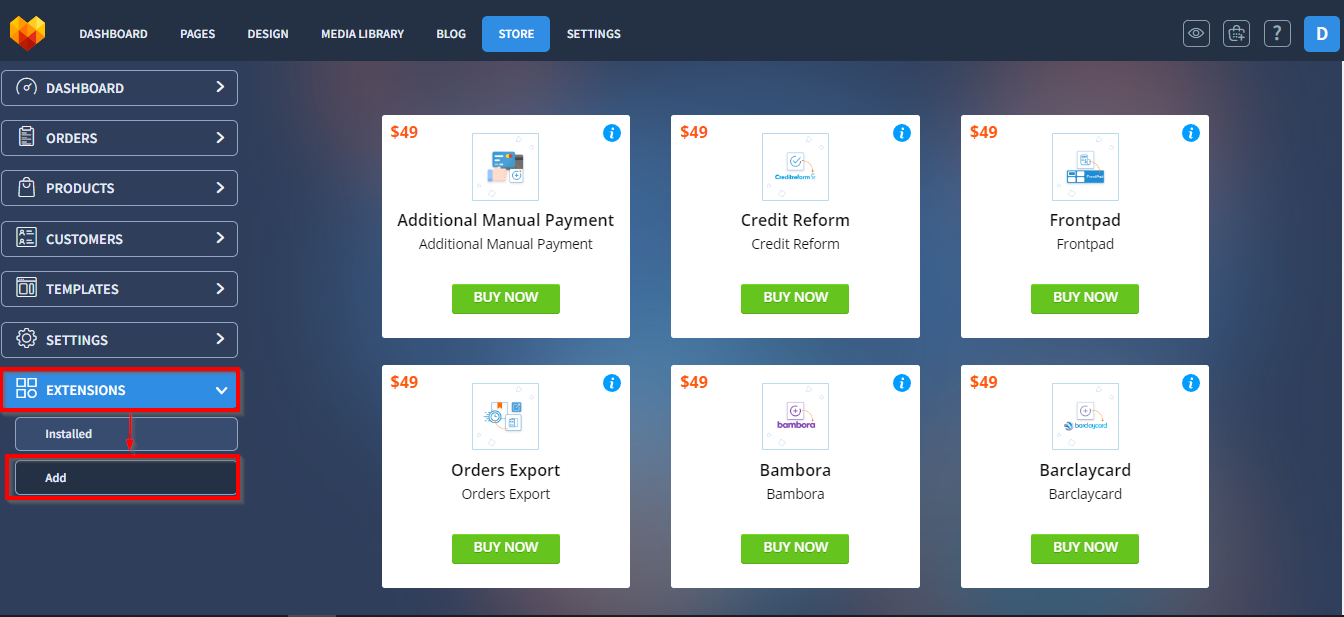 1. Additional Manual Payment
Up to two additional manual payment methods.
2. Сredit Reform
With the CreditReform extension, you will be able to check your online store customers' credit-worthiness to minimize the risk of the invoice payment method.
3. Frontpad Integration for MotoEcommerce
Automatically add orders to Frontpad (adapted for russia)
4. Epay Payment Gateway
Payment gateway Epay
5. Bambora
The Bambora extension provides a completely integrated checkout experience between MotoCMS eCommerce and Bambora, which means your customers never need to leave your site to make a payment.
6. Paystack Payment Gateway
Payment gateway Paystack (adapted for Africa)
7. Saman Payment Gateway
Payment gateway Saman (Saman Bank integration). Adapted for Middle Eastern countries
8. Squareup Payment Gateway
Payment gateway Squareup
9. Tinkoff Payment Gateway
Tinkoff Bank integration (adapted for russia)
10. Barclaycard
Barclaycard payment gateway is an excellent solution for processing your payments in the shortest terms, as it provides on-call technical support 24/7 for a case you have an issue with.
11. Braintree
This payment gateway is plugging quickly into MotoCMS eCommerce platforms, which allows accepting various types of cards like Visa, American Express, etc., and PayPal directly on your online store.
12. CCbill
CCBill extension offers fast payments online for digital, physical goods, broadcast, dating, and streaming media with no added payment gateway or software required.
13. iPay88
Use the iPay88 payment extension for your eCommerce to support payments via Credit cards, Debit cards, Bank account transfers, and alternative payments in different currencies.
14. Klarna
With the Klarna Payments extension, you will be able to take payments via the mobile-optimized online checkout and manage all transactions, including card and APMs.
15. Mollie
Mollie is the most popular and advanced payment gateway that supports the most common payment methods like PayPal, ApplePay, or Klarna and features such as convenient checkout, partial order fulfillment, easy refunds, and more.
16. Payfast
The PayFast extension for MotoCMS eCommerce enables you to accept payments, including Deposits, Subscriptions, and Pre-Orders via one of South Africa's most popular payment gateways.
17. Google Recaptcha v2
Forget about bot attacks with the Google Recaptcha V2, which allows easy detection and blocking bots from submitting forms on your MotoCMS store.
18. Orders Export

With the Orders Export extension, you can migrate thousands of orders for the whole or specific period of time from your old online store on a different eCommerce platform.

19. Stripe
Scale faster by building your business on Stripe's payment processing platform.