This guide will help you to use White Label feature with your MotoCMS 3 Templates. In the other words, you can replace all links to MotoCMS website, knowledge base, support portal, MotoCMS logo and backgrounds with your company information. In order to use White Label feature (to be able to replace MotoCMS information in your admin panel with your company information) you should purchase a White Label licence for one website by following this link.
Please note that this service does not work with older products like MotoCMS HTML and MotoCMS Flash templates. Please follow these steps in order to start using White Label with your templates.
1) Please create a new brand that will be used with your templates. In order to create a new brand, you need to Log in to your MotoCMS account at our Accounts page.
2) Once you are in your account you will need to click on "White label" tab. This action will open a page where you will need to fill in all settings. Here is the list of settings you will need to set up: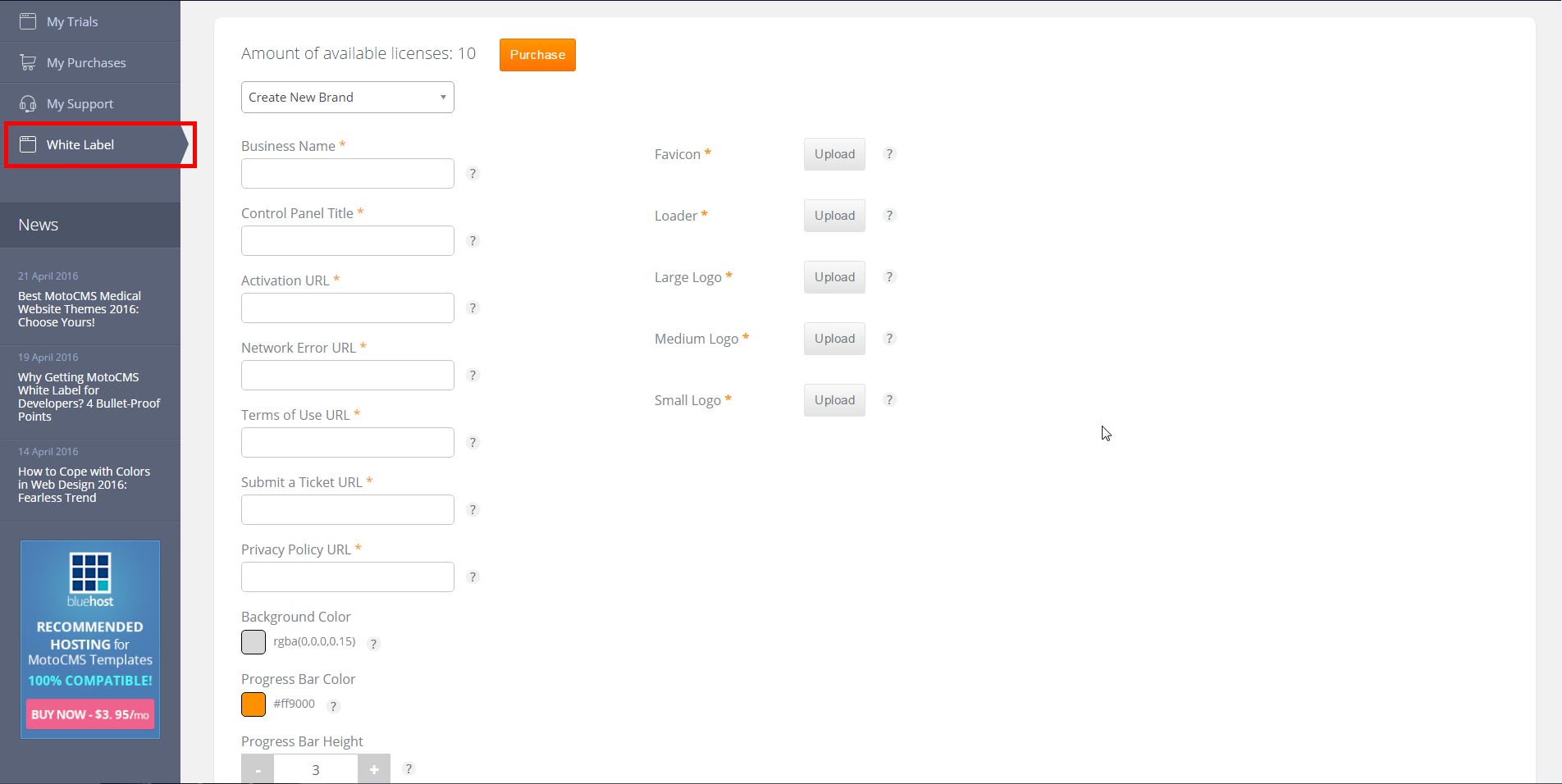 Create new brand - this drop down field allows you to switch between creating a new brand or modify existing one.
Business Name - name of your business that will appear in your MotoCMS control panel. It will replace all MotoCMS text in your control panel.
Control Panel Title - this title will appear as name for tab in the browser when you open the control panel
Activation URL - here you should specify a link to your support portal. In case someone will face activation error they will have an option to open the link that is specified in this field.
Network Error URL - here you should specify a link to your support portal. Your visitors will be able to see use this link if changes in some settings on your server will cause your template to stop working properly.
Terms of Use URL - You may enter a URL to your Terms of Use page. In case you do not have one, just refer your clients to your support page.
Submit a Ticket URL - This URL should take your clients to a Contact Form or Ticket System where they contact you regarding the problems they might face.
Privacy Policy URL - This URL should take your clients to your Privacy Policy page. You can enter the link to your support desk or Contact form.
Background Color - This settings allows you to set the color and transparency for the Loader background when you switch between sections in the Admin Panel.
Progress Bar Color - Color of the line that will run on top of the Admin Panel to show the progress of current process
Progress Bar Height - Allows you to specify the height for your Progress Bar in pixels. You can choose from 1 pixel and up to 15 pixels.
Help Center - enabling this setting adds a 'Question Mark' in the right top corner of the Admin Panel. Your clients will be able to click there and find the link to your Help Desk in case they have a question. You will be able to specify a link to your Help Desk in the text field that will appear once you will enable this setting.
Support Feedback - enabling this setting adds a Feedback Form button on top of the Admin Panel to receive any recommendations from your clients. You will be able to specify an email where this message will be sent in the text field that will appear once you will enable this setting.
Favicon - A favicon is a small image that appears in your browser tab when you visit someone's website. It can be also found next to the page's name in a list of bookmarks.
Loader - Please add animated GIF file that will be played every time when there is a loading process in the Admin Panel.
Large Logo - Will appear on your login page and main page of MotoCMS control panel. Recommended size for this image is 390x130 pixels.
Medium Logo - Will appear on update pages of your MotoCMS control panel. Recommended size for this image is 225x75 pixels.
Small Logo - Will appear in the top left corner of your MotoCMS control panel. Recommended size for this image is 160x50 pixels.
3) Once you are done with all the settings, please click on save button to apply changes.
4)On My Purchases page please find the product you want to rebrand and select the brand you want to apply to this product. Then click on "Rebrand" button.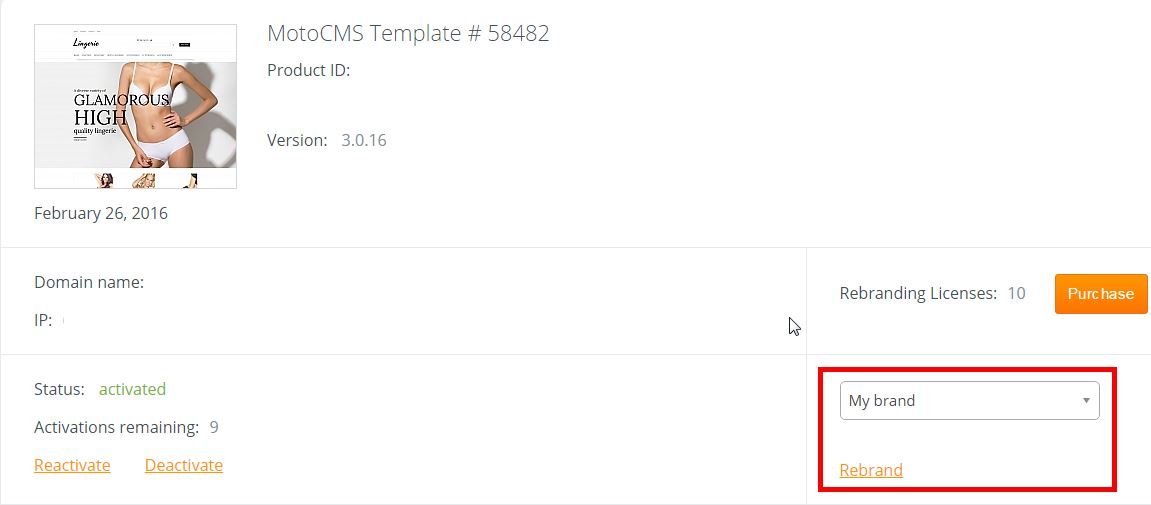 This action will remove 1 of your re-branding licenses. You may remove branding using "Unbrand" button.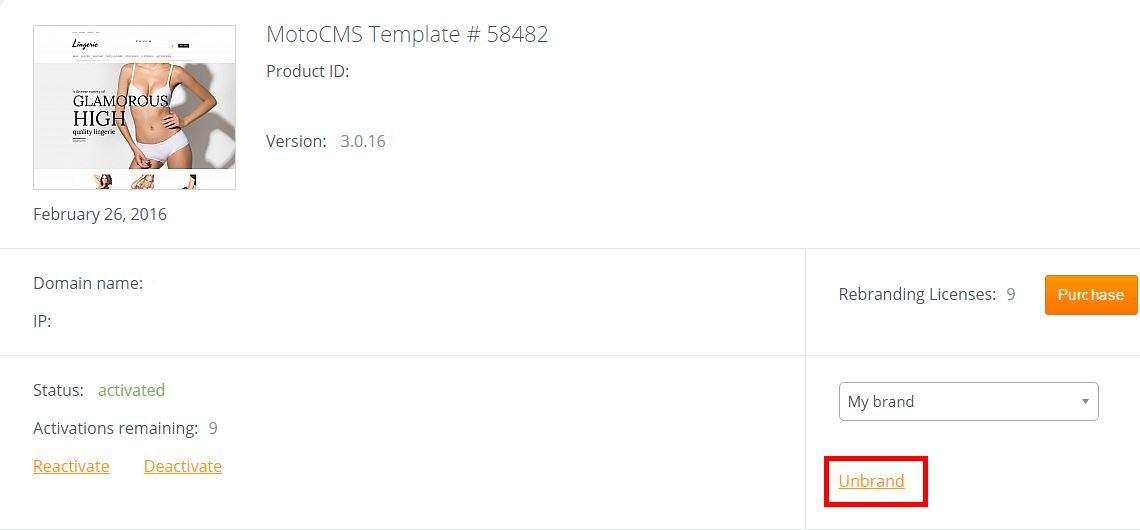 IMPORTANT! Once you unbrand the template, you do not get White Label license back, it will vanish.
Purchasing additional White Label licences.
You can purchase a White Label license in 2 ways:
1) You can purchase one license with your template by adding White Label offer to your purchase on our website www.motocms.com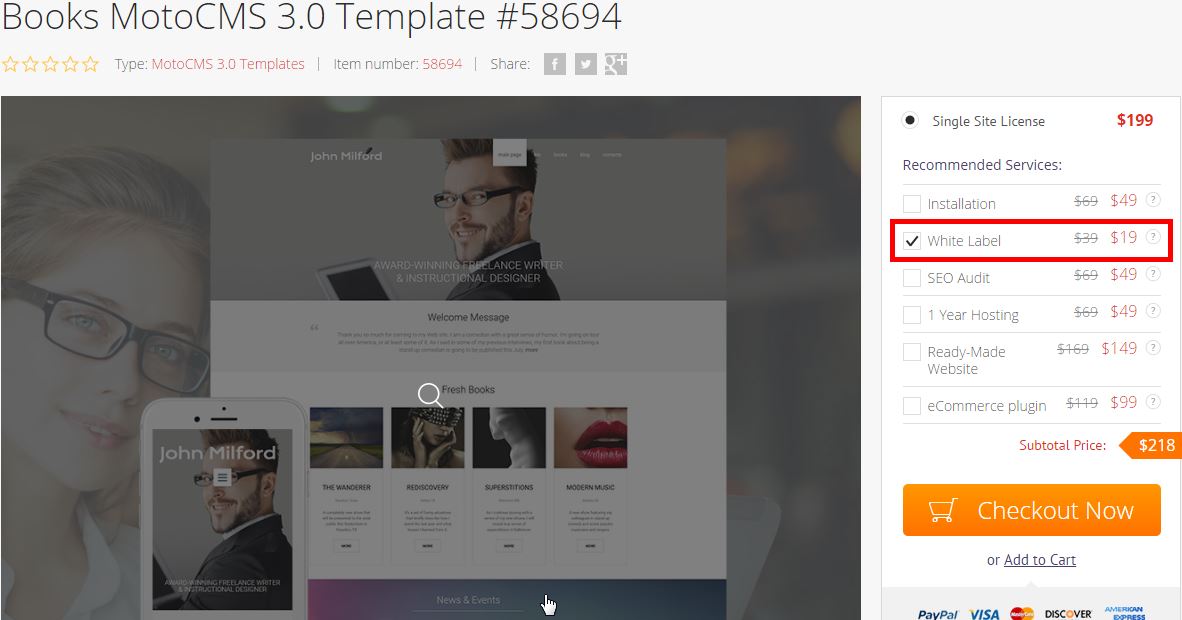 2) You can purchase multiple licenses in your Accounts page. In order to do so you will need to open "White label" tab and click on "Purchase" button.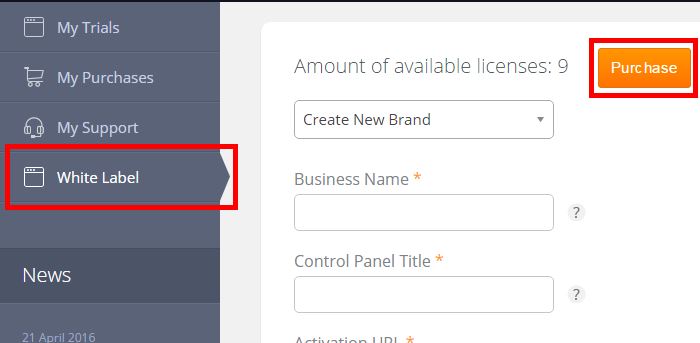 Please specify amount of licenses you would like to buy in a popup window that will appear. Then simply use "Buy Now" button to proceed to checkout.