This section allows you to store and use various media content on your site's pages.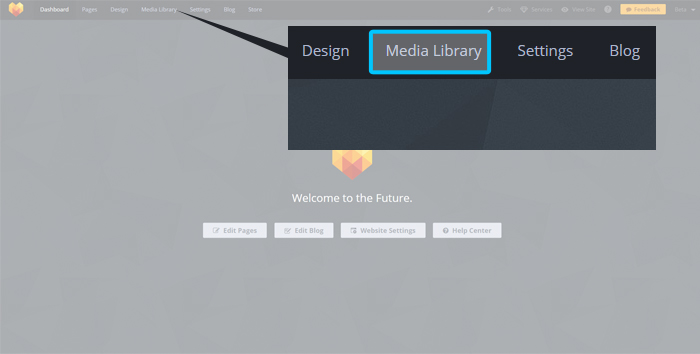 In order to upload new content please click the "Upload" button. The maximum upload size is set to 2M by default.
In case you are not sure you have enough high-quality images and photos for your website to be visually rich, you can either download images from Unsplash (free photo stock) as explained in this guide below or purchase any 15 images you can choose with our partner, the largest photo stock DepositPhotos by following this link.

Please note: If you wish to increase this limit- please contact your hosting provider and kindly ask them to increase the value of the following server extensions: upload_max_filesize; post_max_size; memory_limit.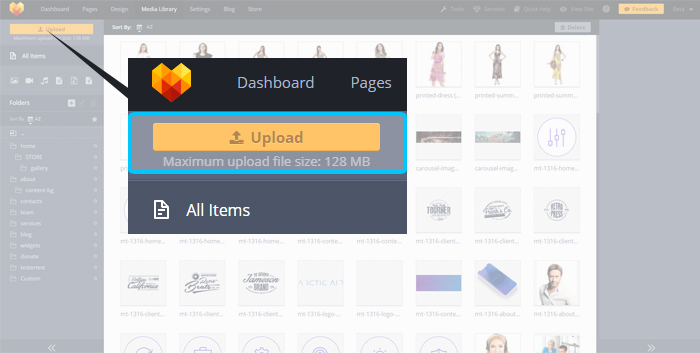 You will see a notification screen, which allows you to drag files into the area or use two different options: 1) "Choose Files" button to upload files from your hard drive into the Media Library; 2) "Photos by Unsplash" feature to upload free photos from Unsplash site.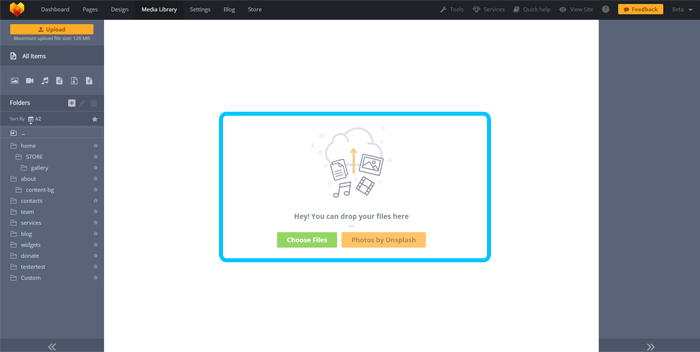 If you use the "Select files" button, you'll need to find the necessary file on your computer and confirm the process. You will see a progress bar during the uploading process.
If you use the "Photos by Unsplash" feature, you can type the required theme in the "Search" field, select photos and press the "Download" button or search for more images via the "Load More" button.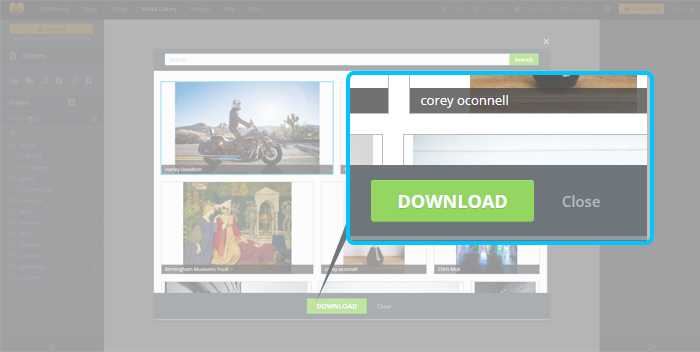 Your files must have a correct format and do not exceed maximum upload size, otherwise you may see this error report.

MotoCMS 3 Media Library - File Extensions
Media Library supports the following file extensions:
images - jpeg., .jpg, .png, .gif, .ico.
audio - .mp3, .mp4.
video - .swf, .avi, .mp4.
documents - .pdf, .djv, .djvu, .doc, .docx, .gdoc, .rtf, .rtx, .txt, .xls, .xlsx, .ots, .odt, .xml, .ppt, .pptx, .pps, .log
archives - .zip, .rar, .7z, .tar, .tgz, .gz, .gzip, .bz2
"Filter" feature allows you to sort and display certain type of files within the Media Library.
Available filter types affect images, video and music items, documents and archives or other files.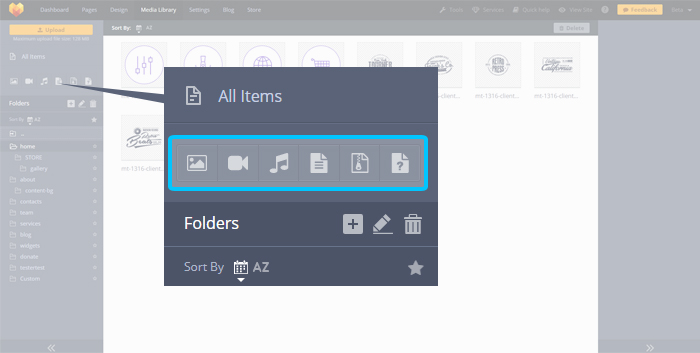 MotoCMS 3 Media Library -
File Properties
Each file extension has it's own file properties. File properties provide detailed information about the file (type, size, author, date, dimensions, etc.).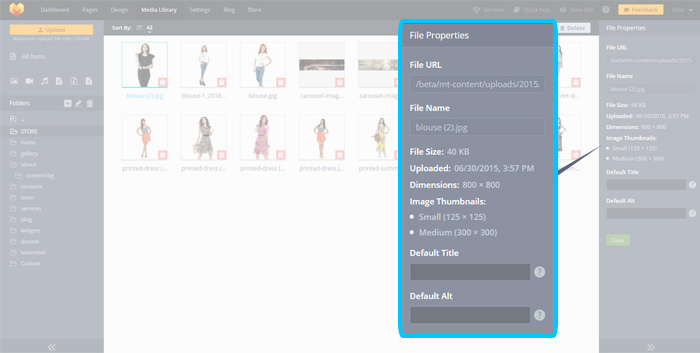 "File URL" reflects the object's location on the server.
"File Name" reflects the object's title, which is located on the server. Changing the file name will affect its display in the Media Library, the physical file name will remain the same.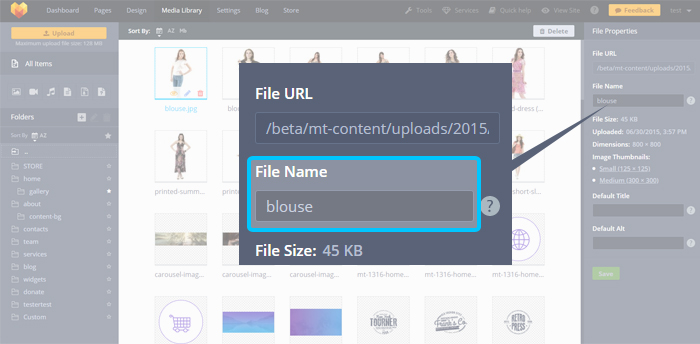 "Image Thumbnails" show you the thumbnails of the selected image in the Media Library.
"Default Title" - your image's title (can be changed within the same field for a mentioned image within Media Library). Also, it improves SEO (when you overlay image with cursor - you will see the image's title). Search engines can also index such titles.
"Default Alt" - this text will appear instead of your image if your browser's settings block the possibility to preview images.
If you need to update Default Title or Default Alt - please type necessary details within the mentioned fields and click the "Save" button.
There are several filters presented in Media Library, which provide possibility to sort content elements within the Media Library:
"Root Folder" - this folder allows you to preview all folders and subfolders. It's open by default. There are presented two types of folders: empty folder and full folder.
Please note: the number of folders is unlimited, while the number of subfolders is limited to 5.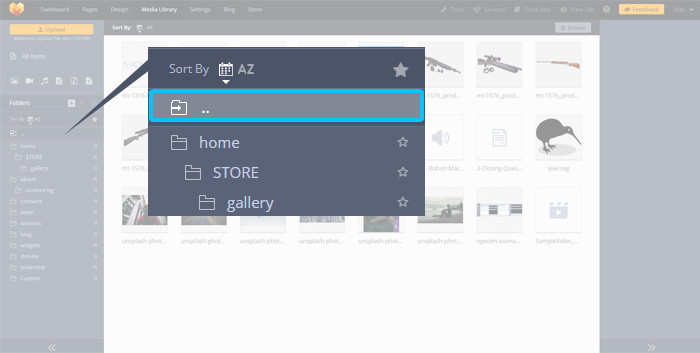 You can input up to 5 subfolders to the empty main folder. In such case you can simply drag them into the necessary folder using your mouse cursor.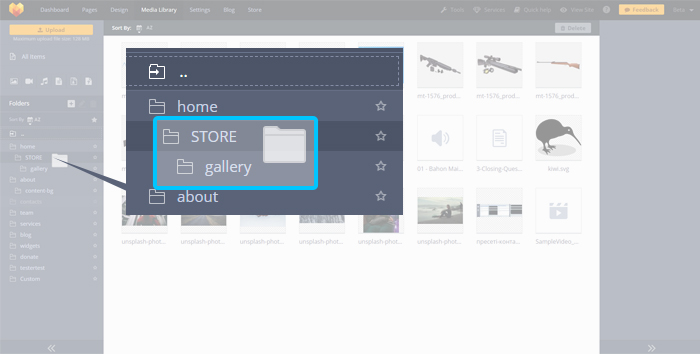 If you wish to add a new folder - please click on the "Add" button. You need to specify the folder's name within the "New Folder Name" section and click the "Add" button.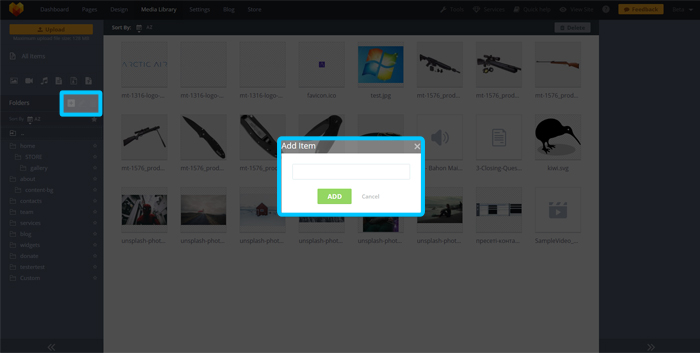 If you wish to edit the folder's name - please click the "Edit" button. If you wish to remove the folder - please click the "Remove" button.
"Set as favorite" feature allows you to highlight specific folders that you use quite often and easily find them using the "star" icon, in addition to other sorting options of the "Sort By" features, such as sort by date, alphabet or size.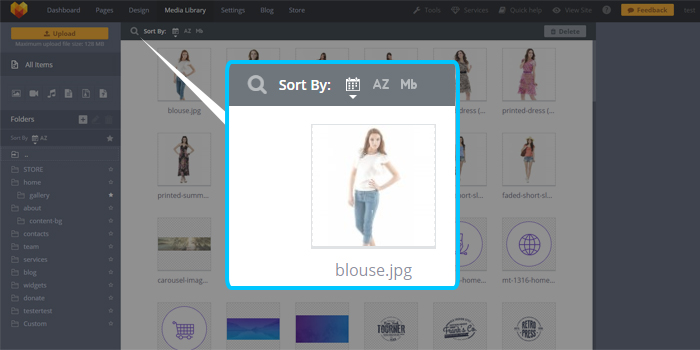 You can also use the Search icon to find the required images from the list of available images.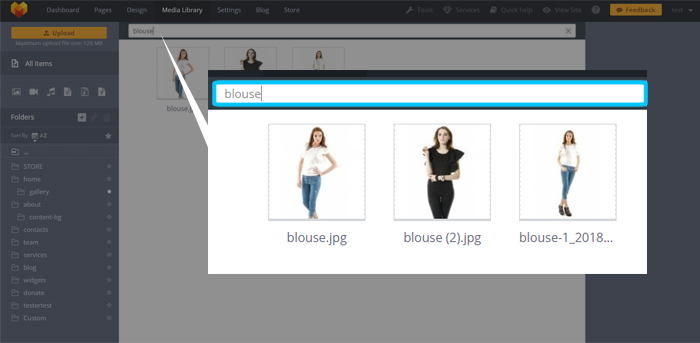 You can preview the image using an "eye" icon over it or preview its thumbnails by clicking on its sizes on the right side.

Photo Editor
Update 3.3.4. introduced a TOAST UI Photo Editor image editor tool within the Media Library. You can access it by clicking the "Edit" button over the image. You can also click on the "Eye" icon to preview the full-sized image in a pop-up or click on the "Trash" icon to remove the image.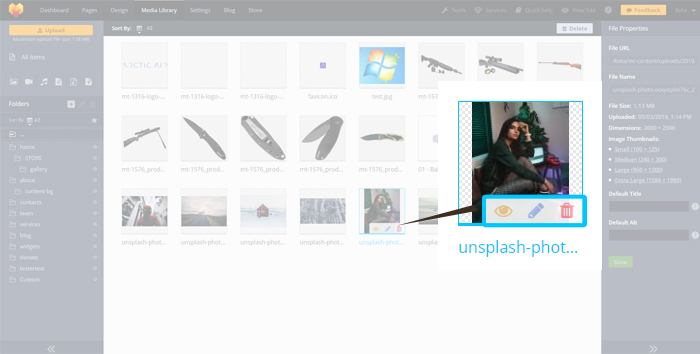 Photo Editor provides the following features: 1) Undo/Redo/Reset buttons to revert the changes you apply to the image; 2) Crop/Flip/Rotate buttons to change image's position or remove some of its parts; 3) Draw/Shape/Icon/Text/Mask/Filter to change the image visually.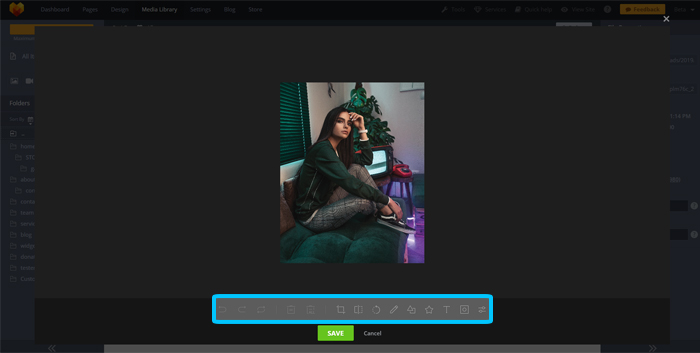 There is no possibility to resize images within the Media Library. For this purpose, you need to use a 3rd party offline image editors like Photoshop or it's online alternatives.
Resizing Images
If you wish to resize your image - make sure to click on the "Resize" icon.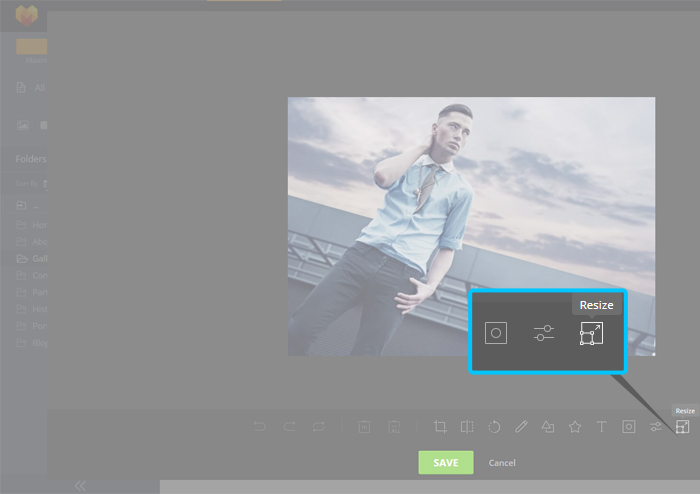 You can select custom dimensions (Width/Height) or enable "Aspect Ratio". If you wish to decrease or increase the image in percents - you can also use the below "Percent" feature.