Control Panel Activation
Once your MotoCMS admin panel is installed, you may see an activation window as shown below.
IP (server external IP address) and Website domain name are picked automatically according to the address you're running the admin panel by. In order to proceed, please press the "Activate" button and you will be redirected to your account at the MotoCMS Accounts page. Please input your account login details provided in the email you should have received after purchasing the template.
MotoCMS Account registration email example:
Dear customer,
Congratulations! Your MotoCMS user account has been created. Now you can log in to manage your products.
Please use following login details to access your account:
Login: yourmail@gmail.com
Password: lE6P34
URL: http://accounts.motocms.com/
Please make sure to read the Installation Guide if you are not sure how to get your product working:
Installation guide
You're getting this email because you've just bought Moto CMS. (Or someone using your email address did.)
== This is an automated message -- any replies to this email will be ignored. ==
Best regards,
Moto CMS Team
http://support.motocms.com/
In case you haven't received such email, please try clicking the 'Forgot my password' button and inserting the email address specified while purchasing the template to have the MotoCMS accounts password resent.
Once logged in, you will see all MotoCMS templates purchased using this email address. Please choose the one you would like to activate and copy the IP and the domain from the activation window of your MotoCMS Control Panel to your MotoCMS account for the chosen product.
In order to edit these details, please use the "Reactivate" button as on the preview below: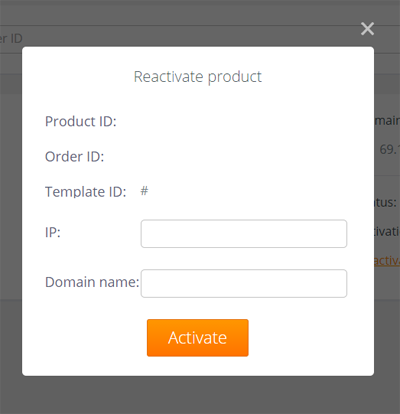 Once you've input your details, please press the "Save" or "Activate" button.
Then please make sure the template is activated ("Deactivate" button should be shown on My Products page, not "Activate").
Your account has been successfully activated now!
Important: You should activate your product using exactly the same domain and server external IP that are shown by your MotoCMS control panel activation window.
Please note! Activation procedure is required in order to protect your product from illegal or unauthorized use. Activation is limited to 10 times only. Each changing server external IP address and/or website domain name is counted as activation (reactivation) and decreases activation counter by one. In case you've faced any difficulty activating your template, activations number exceeded or activation counter should be reset, please contact our Support Team.
After completing the activation process, please reload the admin panel (refresh the browser tab). The template should activated and ready for use.
If the control panel continues showing activation screen or any other error occurs, please check the Typical Errors list.
By the way, you can check the activation video tutorial here.