In this section you will learn what Flash Moto CMS template is, what requirements you should follow to use the product and what license terms are applied to Moto CMS users. Here you will also find detailed information concerning product installation and Moto CMS Control Panel basic setup process.
What is Moto CMS?
Moto CMS is a Flash content management system. Using Moto CMS you may edit your website content, add new pages, edit and delete the existing pages, manage your website's menus, galleries, contact forms, upload videos and music, etc... Due to the SEO support, ability to upload your own fonts and integrate external modules and widgets, Flash websites empowered by Moto CMS have a range of advantages over the ordinary Flash websites.

Flash Moto CMS website is a complete Flash website created on the basis of Flash Content Management System components and equipped with a control panel that gives you the ability to manage your Flash website information.

Moto CMS control panel is an online application that should be installed on your web server together with a Flash website. The biggest advantage of this control panel is WYSIWYG editor that makes website editing even easier.
Flash Moto CMS templates cannot be considered as design themes for Flash websites at the moment, as they cannot change a website design without changing its content.
Unfortunately Flash web sites cannot be viewed on mobile devices due to fact that Flash technology is not supported by mobile devices. That's why Flash Moto CMS templates have it's mobile version which is HTML version of the web site, this mobile version should be edited separately by using mobile editor, please check our blog about mobile editor.
Flash Moto CMS templates are first of all, for users, who don't want to spend money on purchasing additional software, and second, for those, who don't want to contact Design Studios for creating a Flash website.
Moto CMS control panel and Flash CMS components are created on the basis of PureMVC Multicore using ActionScript 3. All the data is stored in XML files, so Moto CMS doesn't require a database.
Requirements
Moto CMS Control Panel
Moto CMS is a cross-system that is based and works properly in all major web browsers on all operating systems which are supporting Flash Player 10 or higher.
In order to launch a Flash website and a control panel you should have a hosting and domain name or a local web server with: PHP 5.3.23+, 5.4.04+ 5.5.09+, 5.6+ with Zend Guard Loader.
Moto CMS control panel runs on a flash player and requires a flash player to be installed in your browser. There are no restrictions for an operating system or a browser to use. Flash Player currently runs on all popular operating systems (Windows, Mac OS, Linux) and the browsers (Internet Explorer, Firefox, Google Chrome, Safari, Opera, etc). The only requirement is a flash player with the version higher than 10.
Another requirement is PHP 5.3.23+, 5.4.04+ 5.5.09+, 5.6+ with Zend Guard Loader as a server-side logic. All website data is stored in XML files, so it doesn't require a database. You should have the following php extensions on your server to run Flash Moto CMS template:
GD library for php
mcrypt
curl
spl
dom
json
curl
reflection
For security purposes Zend Guard Loader is required to be installed on your server. Most of the hosting services on the web already have one of them installed. If not, this software is free and can be easily installed by contacting your hosting provider.
Note: You may not install any PHP extensions or Zend Guard Loader by yourself. You can only enable or disable them in case they are installed from your webhosting's control panel, otherwise please contact your hosting provider.
Licensing and Moto CMS Accounts
Our product is licensed on a per-domain basis. It enables you to use Moto CMS template on a single website only, belonging to either you or your client. You have to purchase the license again if you want to use our product for another project.
All your licenses and products can be managed through your Moto CMS account that will be automatically created after the purchase. You may activate and deactivate products and change product activation data if needed.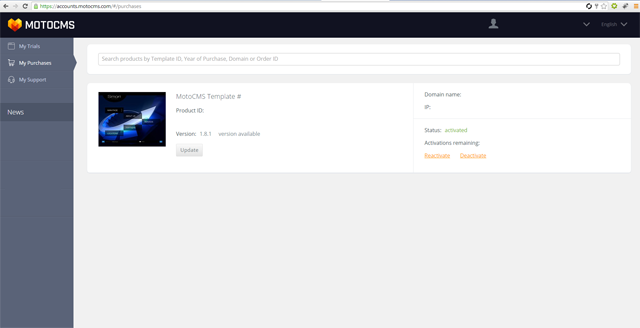 To activate the product you should enter the domain name and IP address in your account settings. This information will be displayed by the first Control Panel launch. In case if you need to change your server data or move your files to another server, you should re-activate your product account settings and put your new domain name and the IP address. Please refer to the control panel activation section to learn how to activate Moto CMS.
Due to security reasons the number of product activations is limited to 10. It was done to exclude the opportunity to use the product on different domains by means of changing your activation data. If you need more than 10 activations on the score of testing or working on a local server, activation counter can be reset to zero. In order to do this, please contact our support team.
If you buy several products, they will be added to the existing account where you can control them all at once.
Flash Moto CMS Templates
Flash Moto СMS template is an ideal solution for those who want to manage the Flash site content easily, without purchasing additional software. All you need is Flash Moto CMS with a ready-made template and hosting that corresponds to our requirements.
Package:
The template package includes: Moto CMS license, the template itself, all the source files*, guidelines, 24/7 free 1-year support. No additional monthly or annual payments are required. The duration of the license is not restricted anyhow.
* The source files (.PSD and .XFL) are intended for Flash developers. These files are not required for launching and managing the Moto CMS site, and for working with them will require the developers to use additional software.
Purchasing Flash CMS Templates
After the Flash Moto CMS template has been purchased, you will get an e-mail with a download link that will stay active for 72 hours. After that you will get one more e-mail with your Moto CMS account details, which are required for product activation.
Launching a website
Please unzip the downloaded .zip file to your hard drive and find the folder named "site_flash". The content of this folder is what you should upload to your FTP server.
When using FTP software, please make sure that you have set a binary mode for the file transfer of your FTP client. Don't change the file names (i.e. don't convert the file names to lowercase).
You can upload the Flash Moto CMS template files to a remote server in the usual way. There is no need to perform any additional adjustments after you have uploaded your template.
After uploading your files you can open your template on the server.
Then go to your website and see the results. In order to access the admin panel please, add " /admin " to your site's URL , for example: https://mysitename.com/admin. To get more detailed instructions on Moto CMS control panel start-up please read the section: Control Panel Startup and Setup.