1. First Step - create unique page names
2. Second Step - Friendly URL
3. Third Step - meta-tags
4. Fourth Step - use «Do not index» and «Do not follow»
5. Fifth Step - Links creation. Create Anchors
6. Sixth step - Only unique and useful content
7. Seventh step - optimize images on web site
8. Eight Step - Use Google Analytics and Google Webmaster Tools
Experts identify five main ranking factors:
1. Trust-rank of the domain name.
2. Back-links to a specific pages.
3. Anchors of the external links.
4. Density of the keywords.
5. Traffic and CTR (click-through rate).
Internal ranking factors such as keywords, H1 tags, headers, quality of content, description and sitemap - are also very important. Only by combining both external and internal ranking factors you can bring your website in the top 10 search results.
In case you're lost in all these things or don't want to waste your time learning all these things and doing lots of investigations in your site SEO, you can have our SEO specialists do all these things for you by purchasing On-Page SEO service using this link.
If you still don't have a domain, we recommend you to purchase it and point to your server in order to start working on your site SEO. Otherwise you'll have to re-do many steps of this guide after pointing your domain to your server. You can purchase a domain on our site, here is a link to choose a domain name and purchase it!
SEO Optimization of the Moto CMS HTML templates:
1. First Step - create unique page names
Often, even minor changes significantly improve web site's search results. It is important to specify precise and user-friendly page titles. It would be ideal to create unique titles for each page. Such functions are available for Moto CMS HTML templates. Please log in to your web site's admin panel and select page, which you would like to optimize. We have selected page "News"

On the right side we can edit page settings. Page title can contain the name of the company or to reflect the scope of your project, also it can contain other important information (for example: location or company slogan). Titles of the other pages should reflect to specific content of these pages, and may also contain the name of the site.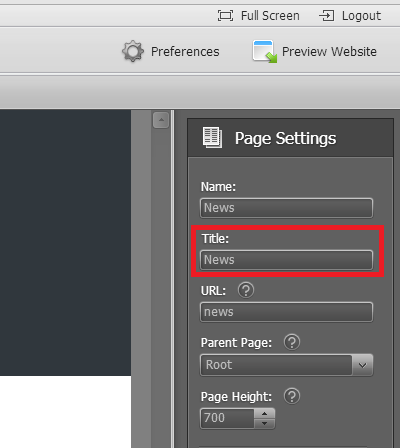 2. Second Step - Friendly URL
Content management system "Moto CMS" allows you to create friendly URLs. This is very important for both - web site visitors and Search Engines. There will be no long and difficult URLs, which do not contain navigation information and are difficult to remember.
Create URLs, which reflect your web site's page content. This will allow for visitors and search engines get more information about about page content. Moreover visitors will be able to go directly to this page if this text will match their search queries.
You can change web site's page URL in page settings pane on the right side.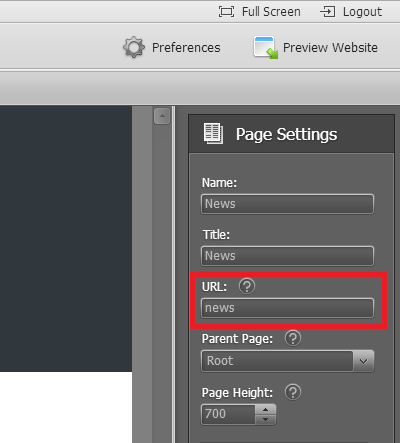 3. Third Step - meta-tags
In page settings you can add "page description" and "keywords".
Page description - should contain information about this page. Page description is very useful, because Search Engines use this information as snippets in search results.
Also you can add necessary "keywords"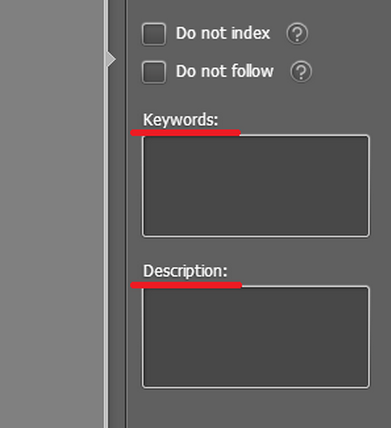 4. Fourth Step - use «Do not index» and «Do not follow»
Use function of the hiding unwanted text or links from being indexed. This will help Search Engine Bot to determine which pages should not be indexed and identify links by which there is no need to make the transition.
For this you should enable these options, please check screenshot below: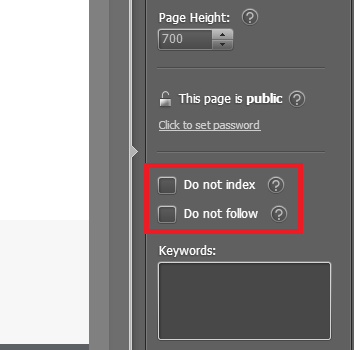 5. Fifth Step - Links creation. Create Anchors
The issue of the navigating through web site pages and external links - successfully resolved by Moto CMS team. You can add links to any objects, web site elements or text objects without any issues. Link path can be registered on any page of the site, a pop-up window, an external URL or file.
Make sure that you are adding anchors, because they help users and search engines better understand what are you referring to. Thus, the simpler and clearer anchor text, the better for SEO optimization of your website and the greater convenience for website visitors.
In order to create link - you should highlight text and then check "Link sign" on the right and "Link Editor" will opened.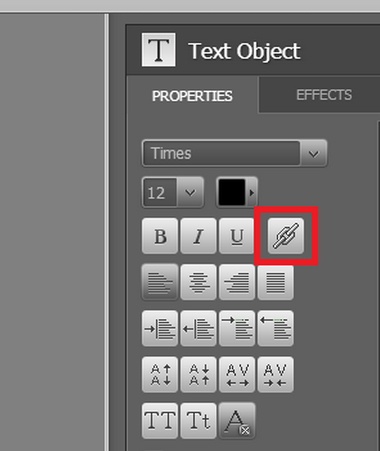 In link editor you will see list of available options, where you will be able choose necessary option.
Also here you will be enable "no follow" option - check this option if you don't want this link to indexed.
6. Sixth step - Only unique and useful content
Unique and interesting text on your web site will affect on your web site indexing more then all previous factors. While creating text on your website for website visitors, please don't hesitate use possibility to add keywords in texts.
In case your site pages lack of useful and well-optimized text, we recommend you to consider purchasing Web copywriting offer by following this link.
Add, edit or delete content on web site is very easy with Moto CMS. User-friendly WYSIWYG editor visualizes all you have done.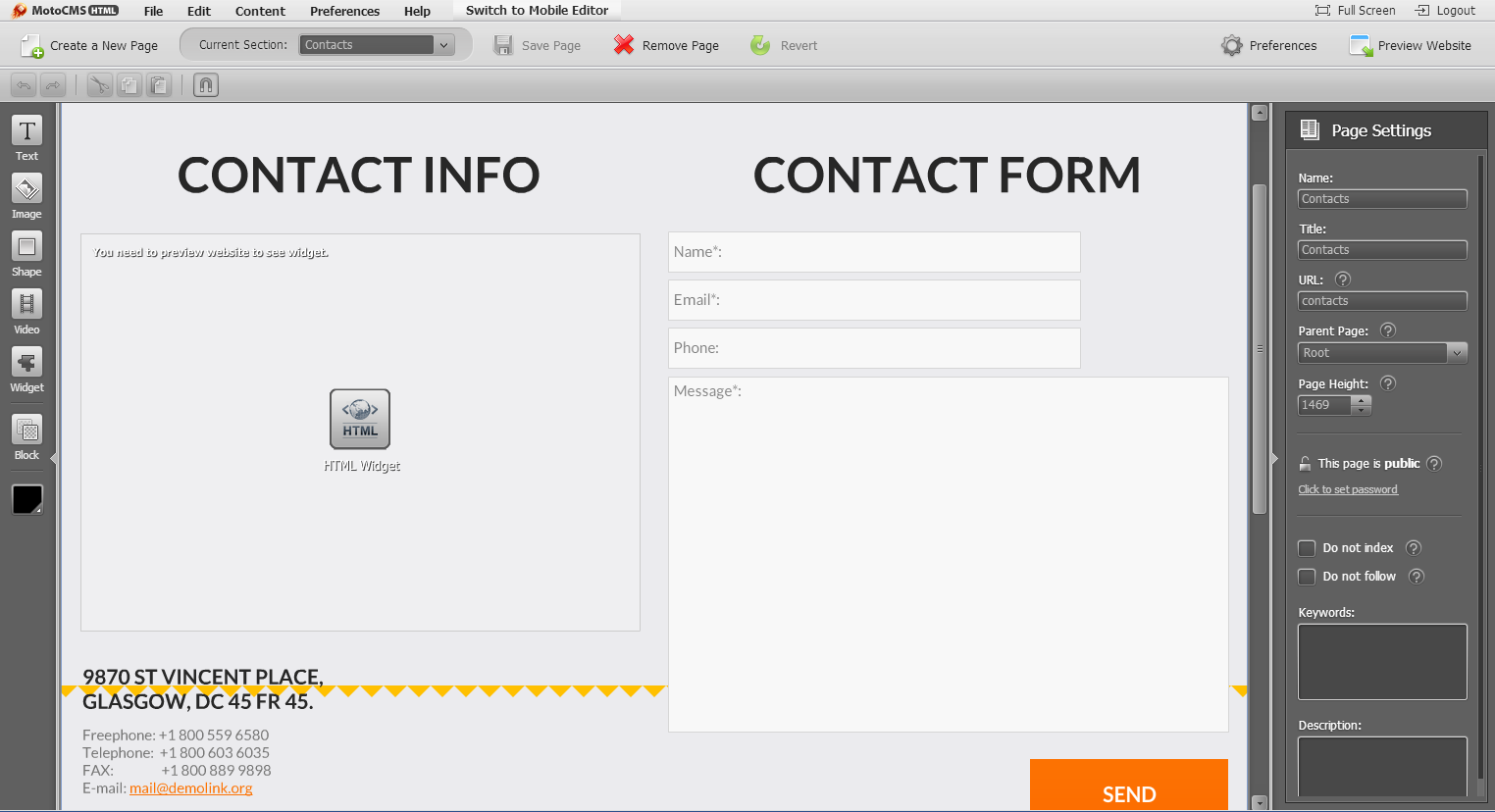 Make sure you are using header tags properly.
7. Seventh step - optimize images on web site
You can optimize all images on your web site. It is possible to add "Titles" and "Alt", both of these attributes, you must use as efficiently as possible.
Add "Title" and "Alt" for image you can in Website Preferences -> MediaLibrary.

Media Library will open.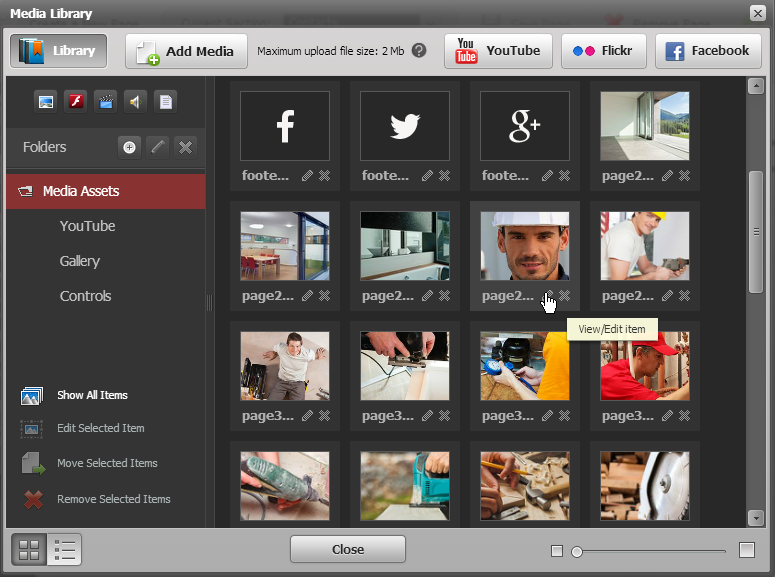 Double-click on image. Image editor will be opened in new window. Please check "name and metadata"on the right - here you can add "Title", "Alt" and "Tags".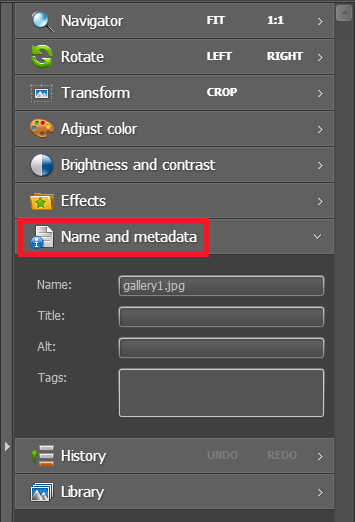 8. Eight Step - Use Google Analytics and Google Webmaster Tools
Of course, you will not be able to evaluate the effectiveness of your project, not tracking traffic coming to your site and finding out the most popular and visited pages.
With Moto CMS you will be able integrate in to your web site such instruments as Google Analytics andGoogle Webmaster Tools.
For this please check web site "Preferences" -> "Seo&Analytics".

Please enable necessary options and save changes.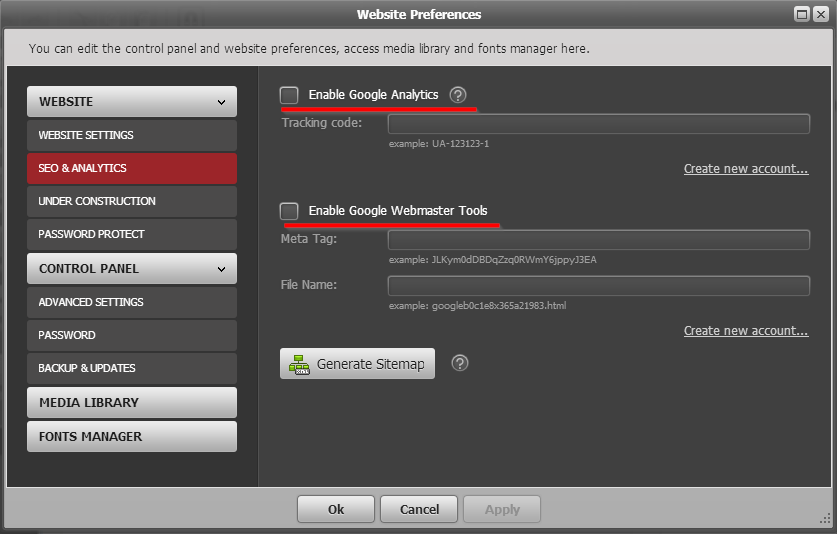 Also you can automatically generate sitemap.xml, which will help search engines index your web site more effectively.